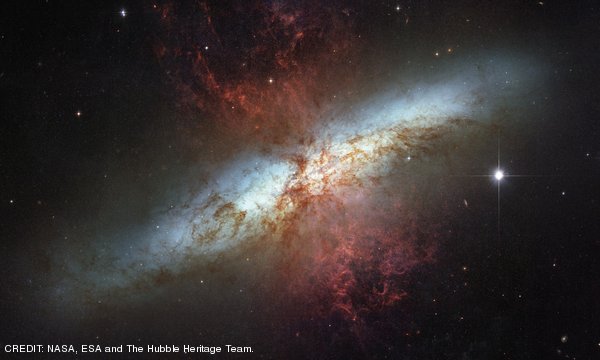 In the show this time, Dr Danielle Fenech tells us about starburst galaxies and we talk to Dr Ant Holloway about his role at Jodrell Bank in the JodBite. As always, your questions are answered by Dr Tim O'Brien and we round up some odds and ends from the world of astronomy.
JodBite with Dr Ant Holloway
In our second ever Jodbite we talked to Dr Ant Holloway about his role here at Jodrell Bank. Ant is in charge of I.T., and in this interview he tells us about his physics background, his day-to-day work and his involvement in e-MERLIN. Ant is also a keen amateur photographer so check out his website for some awe-inspiring images.
Interview with Dr Danielle Fenech
In this interview, Melanie talks to Dr Danielle Fenech from UCL about her research studying the nearby galaxy M82 and star formation histories in starburst galaxies. By observing these galaxies at radio wavelengths, it is possible to detect and monitor supernovae and supernova remnants and determine where and when the galaxy formed its stars.
Ask an Astronomer
Dr Tim O'Brien answers your astronomical questions:
The first question this month is from Hayley. She wrote in to say' Today around about 3pm the sun appeared to have a strip of colour to its side. It was like a mini rainbow but not as colourful. Also, it seemed to reflect causing it to look like there were two suns in the sky. What could cause this?'.
The next question is from Patrick who asks 'What is the most interesting thing that you could find on the other side of planets that you wouldn't normally be able to see in the Night Sky?'. Tim referred to Jodrell's involvement in the Russian Luna 3 mission to photograph the far side of the Moon.
Now we have a message from Aleksandra in Poland who has written in to say 'What would happen to the Earth in the absence of the Sun? I mean, where would Earth fall to? In the absence of gravity would the Earth fall to infinity?'.
Finally, we have a question from Christoph. He says: 'Why does the method of gravitational lensing work if normal matter (which is used in this method, as I understand) only makes up 5% of all mass in the universe? Is dark matter just too dispersed to interfere with this process?'.
Odds and Ends
This year's UK-Germany National Astronomy Meeting is being held at Manchester University in March, and there are some free evening lectures for the public. There are also some free tickets for the plenery lectures during the conference for teachers and members of local astronomical societies. More information about the lectures, including how to book tickets, is here.
Astronomers at the Carnegie Institution of Washington announced the discovery of two moons of Jupiter at the end of January. Observations at the Las Campanas Observatory last September revealed the one-kilometre-wide moons, which are part of a "retrograde swarm" orbiting the planet in the opposite direction to the much closer and brighter Galilean moons. These small moons take 1.5 - 2 years to orbit and outnumber the prograde moons.
A meteorite infused wine called Meteorito has been developed by astronomy and wine enthusiast Ian Hutcheon who is originally from Norwich, but now runs both a vineyard and an astronomy centre in Chile. The wine was created by ageing a Cabernet Sauvignon for a year in a barrel containing a 4.5 billion year old meteorite. The wine is currently only available from Mr. Hutcheon's observatory, the Centro Astronomico Tagua Tagua.
Show Credits
| | |
| --- | --- |
| JodBite: | Dr Ant Holloway and Mel Irfan |
| Interview: | Dr Danielle Fenech and Melanie Gendre |
| Ask An Astronomer: | Dr Tim O'Brien and Christina Smith |
| Presenters: | Cat McGuire, Mark Purver and Christina Smith |
| Editors: | Dan Thornton, Tim O'Brien and Christina Smith |
| Producer: | Christina Smith |
| Segment Voice: | Kerry Hebden |
| Website: | Christina Smith and Stuart Lowe |
| Cover art: | Starburst galaxy M82 CREDIT: NASA, ESA and The Hubble Heritage Team. |
[an error occurred while processing this directive]