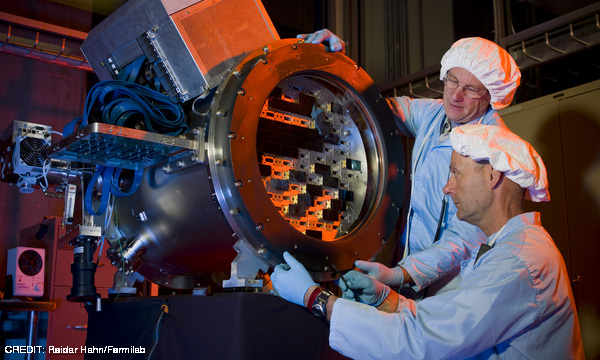 In the show this time, Professor Annette Ferguson talks to us about galaxy formation and growth, Professor Sarah Bridle tells us about weak gravitational lensing in this month's JodBite, and your astronomical questions are answered by Dr Joe Zuntz in Ask an Astronomer.
JodBite with Prof. Sarah Bridle
Professor Sarah Bridle tells us about the Dark Energy Survey, which will use weak gravitational lensing to map the effect of dark energy on dark matter by looking at the matter we can see.
Interview with Prof. Annette Ferguson
Professor Annette Ferguson talks about her research into the formation and growth of galaxies.
Ask an Astronomer
Dr Joe Zuntz answers your astronomical questions:
Mark the Manchester Chemist asks: "Are there any present day analogies to the temperature and pressure of the Universe at the epoch of recombination, 380,000 years after the Big Bang?"
John Brooks asks: "If Stephen Hawking is correct and black holes can 'evaporate', wouldn't that imply that something - radiation - can escape from a black hole? And if so, then why can't we see black holes emitting this radiation?"
John also asks "If light, or a photon, has no mass, then how can it be affected by a gravitational field?"
Odds and Ends
The Hubble Space Telescope has been used to find three Kuiper Belt objects that the New Horizons probe could visit after it flies past Pluto next year. Although each is only around 1% of Pluto's diameter, NASA hopes that they will provide a close-up view of pristine material from the early Solar System.
The 27th Planetary Congress of the Association of Space Explorers took place in Beijing last month, inviting international partners to collaborate with the Chinese government's space exploration programme. The programme's aims include a permanently manned space station, Tiangong-2, by 2022.
The Met Office, the UK's government weather forecasting centre, has opened a new space weather centre. The Met Office Space Weather Operations Centre (MOSWOC) now provides a co-ordinated warning and response service to help mitigate the impact of solar flares, when charged particles are released from the Sun and occasionally disrupt electrical systems on and around the Earth. The UK's National Grid, for example, uses Met Office predictions to adjust the load on its transformers and so reduce the risk of power cuts during solar storms.
Show Credits
| | |
| --- | --- |
| JodBite: | Prof. Sarah Bridle and Indy Leclercq |
| Interview: | Prof. Annette Ferguson and Stuart Harper |
| Ask An Astronomer: | Dr Joe Zuntz and Indy Leclercq |
| Presenters: | Indy Leclercq, Josie Peters and Mark Purver |
| Editors: | Indy Leclercq, Sally Cooper and Cristina Ilie |
| Segment Voice: | Tess Jaffe |
| Website: | Sally Cooper and Stuart Lowe |
| Producer: | Indy Leclercq |
| Cover art: | Scientists testing a prototype of the Dark Energy Survey Camera, which will make measurements of 300 million galaxies in an attempt to investigate dark energy. CREDIT: Reidar Hahn/Fermilab |