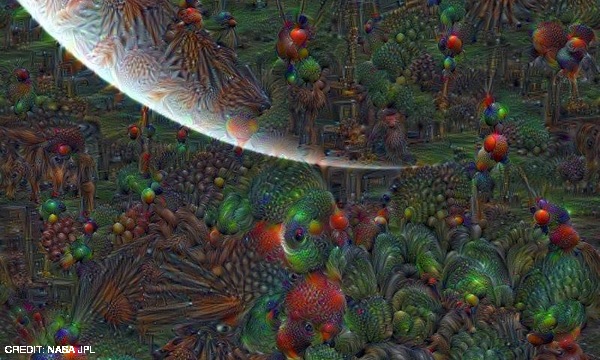 In the show this time, Dr Michelle Lochner talks to us about machine learning and supernova classification, we say farewell to Megan Argo as she leaves us for new pastures and your astronomical questions are answered by Benjamin Shaw in Ask an Astronomer.
Interview with Dr Megan Argo
Dr Megan Argo has been around since the very beginnning of the Jodcast 10 years ago, and has come to be known as the archetypal newsreader. Having done her undergraduate and PhD studies here, worked as a post-doc in the Netherlands and Australia, she then returned again to Jodrell Bank. Alas, we are losing her once more as she leaves us to take up a lectureship at the University of Central Lancashire. Megan talks to us about her life with the Jodcast and how she became such a confident and prolific public speaker, including sharing a stage with Queen guitarist Brian May at Astrofest 2016. She also gives us an overview of her work into the behaviour of nearby galaxies and explains how mergers between galaxies trigger huge bursts of star formation - a future that fate has in store for the Milky Way. Megan has been part of the scaffolding of the Jodcast for such a long time but hopefully we haven't heard the last of her. In fact, if you have done so already, do subscribe to her new podcast Seldom Sirius.
Interview with Dr Michelle Lochner
Dr. Michelle Lochner from the cosmology reasearch group at University College London joins us to discuss a technique which is becoming widespread in astronomy today. Due to ambitious projects and surveys resulting in vast datasets, the benefits of analysing data rapidly or in real-time, and those projects which are difficult for human researchers to solve, machine learning is being investigated and increasingly employed by astronomers in order to aid their work. Dr. Lochner has been working on techniques which use machine learning to classify different types of supernovae (SNe) in order to prepare for the vast influx of data which will be provided by the upcoming Large Synoptic Survey Telescope (LSST). She talks to us about different types of SNe and why we want to classify them, how the LSST will aid our understanding of some supernova mechanisms, and describes different types of machine learning techniques and how you can try some of them out for yourself!
Ask an Astronomer
Benjamin Shaw answers your astronomical questions: Disentagling redshift and demoting Neptune.
Owen asks about the different sources of redshift and how we tell the difference between them
Jacqeline wants to know why Neptune is still a planet when Pluto crosses its orbit.
Show Credits
| | |
| --- | --- |
| Interview: | Dr Megan Argo and Benjamin Shaw |
| Interview: | Dr Michelle Lochner and Charlie Walker |
| Ask An Astronomer: | Benjamin Shaw with Charlie Walker |
| Presenters: | George Bendo, Fiona Healy and Monique Henson |
| Editors: | Andy May, Charlie Walker, Monique Henson and Benjamin Shaw |
| Website: | Benjamin Shaw and Stuart Lowe |
| Producer: | Benjamin Shaw |
| Cover art: | Neptune and Triton filtered by Deep Dream CREDIT: NASA JPL |