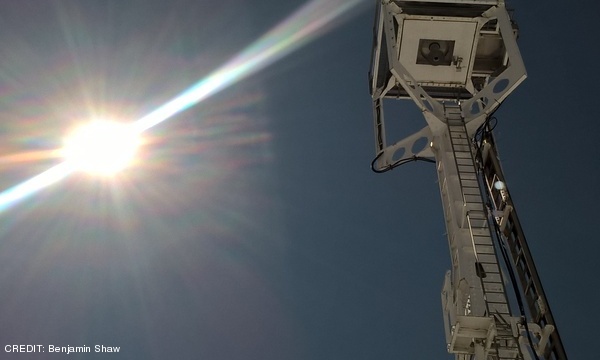 In the show this time, Dr Beth Rogers tells us about Guerilla archeology, Jon Spooner tells us how he hacked his way into space, Grant Munro talks about the hidden heroes of astronomy and Dr Amy Vincent tells us all about mitochondrial diseases.
Interview with Dr Beth Rogers
Beth Rogers from Guerilla Archeology at the University of Cardiff talks to the Jodcast about Bronze Age artefacts and what they can tell us about peoples' relationships with the sun and the moon
Interview with Jon Spooner
Jon Spooner, the director of Human Spaceflight at the Unlimited Space Agency gives us a whistlestop tour of how he accidentally set up his own space agency and ended up going to space. UNSA's free app is available for both Android and Apple devices.
Interview with Dr Grant Munro
Grant Munro from ESR technology talks to the Jodcast about the role of engineering in astronomy and space science. ESR Technology have worked with the space industry since 1972 and have worked on missions such as the Hubble Space Telescope, the Solar Orbiter and BepiColumbo
Interview with Dr Amy Vincent
Amy Vincent from the Wellcome Centre for Mitochondrial Research at the University of Newcastle gives the Jodcast a brief biology lession, introducing us to mitochondrial diseases and the relevance of mitochondrial research to dementia.
Show Credits
| | |
| --- | --- |
| Interview: | Dr Beth Rogers with Monique Henson |
| Interview: | Jon Spooner with Monique Henson |
| Interview: | Grant Munro with Monique Henson |
| Interview: | Dr Amy Vincent with Charlie Walker |
| Presenters: | Naomi Asabre Frimpong, Jake Morgan, Benjamin Shaw and Charlie Walker |
| Show editor: | George Bendo |
| Segment editors: | Andreea Dogaru, Monique Henson, Tom Scragg and Charlie Walker |
| Website: | Benjamin Shaw, Charlie Walker and Stuart Lowe |
| Producers: | Benjamin Shaw and Charlie Walker |
| Cover art: | The view from inside the Lovell Telescope CREDIT: Benjamin Shaw |